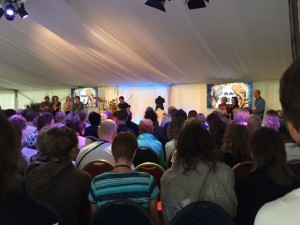 We are in the midst of day 3 of 8 of the Second Annual European Integral Wisdom Conference on Love, Eros, and Enlightenment also known as the Fourth Summer Festival of Love. The whole event is outrageously rich and full on so many levels. 240 participants are here – and the "field" is shimmering with love, practice, and delight. The evolution of love is happening right here, right now. Marc Gafni is bringing down new and gorgeously alive dharma every day and the community gathered here is wonderfully receptive, playful, and committed.
The first day started with a heavy summer storm that mirrored perfectly the bright explosion of the dharma brought into the room so passionately by Dr. Marc. The Venwoude community, as well as an awesome team of contributors and volunteers, in collaboration with The Center for Integral Wisdom, welcomed the participants.
Every day Marc gives beautiful and powerful teachings on the evolutionary emergence of the Unique Self symphony, Evolutionary Relationships, and Unique Gender. There is also a whole spectrum of workshops and practice groups as well as awesome conversations and fantastic food. The participants are loving it and the energy is building. This whole event is not only truly Integral but also outrageously rich and full on so many levels.
Some gems from the Dharma quoted and paraphrased from Marc:
We need to know–more than anything else in the world–that the universe is not a fact but a story. The universe is a story–not an ordinary story but a love story–not an ordinary love story, but an outrageous love story.
Evolution is Outrageous Love in Action. The best information we have today is that the universe is a love story, an outrageous love story. We are the central actors in it and the inherent plotline is love.
Love is not hard to find. It is impossible to avoid. The universe feels. And the universe feels love.
To awaken means to realize that the universe is whispering into my ear in every moment: I love you. I need you. I choose you.
In the newness of the moment is the healing of the moment. The power of NOW is that all of the past and all of the future is right here.
You can always ask yourself: Was newness born in this moment? Or is something dying? Maybe nobody else will know the difference but you will and reality will.
A new Dharma on Unique Gender
There are five great historical stages in western culture of how people looked at gender:
For most of history, people thought there is man and woman, male and female.
Culture used differences as a tool for oppression.
Because of that, there was a great move in culture to level all differences.
Neuroscience discovered through the use of FMRI that there are differences between the sexes that are real hardwiring.
At the same time, neuroscience also discovered neuroplasticity: The culture we live and participate in can shift and transform the brain. Marc called that cultural neuroplasticity.
In every moment that has blessing, in every place that has blessing, there is an inner marriage of masculine and feminine, or line and circle qualities, occurring.
As a Unique Self, I am a Unique Gender, a unique integration of line and circle qualities, which is the Divine inner marriage–Hieros Gamos.
The divine marriage is happening everywhere. In an evolutionary relationship, a Unique We is born that has unique gifts to give together. You cannot get to this outer marriage without first having an inner marriage. That's the democratization of Hieros Gamos, the Divine inner marriage.
Human beings are Eros waking up but not yet awake. For most of history there was no conscious choice. For the first time in history there is actually a choice on how to live your unique gender. Humanity is waking up. Eros is waking up.
What if the only discerning principle for human beings was: Are you an outrageous lover? That's what makes you erotic.