Most Recent Blog-Post Before the Move
September 29, 2015 By Kerstin Zohar Tuschik Leave a Comment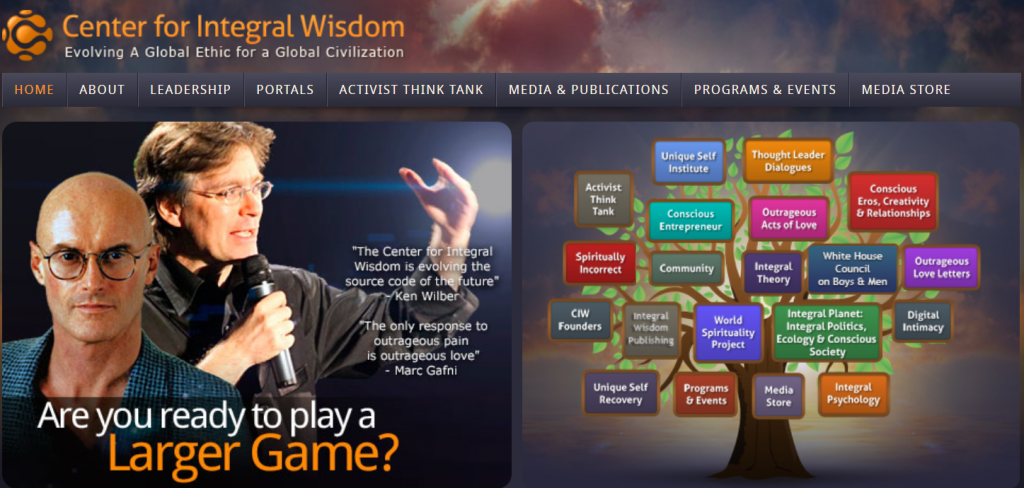 We are proud to announce the launch of "our WebPlex."
This is the last time we are posting to this site. From now on you will find us here.
As you know this has been a major project of the Center for quite sometime and we are beyond delighted to finally share our web cathedral of GREAT stuff with you.
We've put our heart and soul into the creativity needed to build out this online library of powerful new and archival content like: videos, audios, articles, courses, blog-posts… to help you play a larger game in every area of your life.
We've organized the content in a simple yet fresh new way to give you access to some of our best content. There are 23 portals ranging from Conscious Entrepreneurship and Success 3.0 through World Spirituality Based on Integral Principles to Outrageous Love, Eros, and Relationships. Each one is organized on our Navigation Tree to help you find whatever interests you the most. We think you'll enjoy exploring the various areas of our Webplex and feel excited about what we've created for you.
We invite you participate in our online community. All you have to do is click on one of the tiles and sign up in any portal. You'll gain immediate access to our free membership area which means you can access our Free Membership Media here, our Blogs, and Thought Leader Dialogues, plus receive a free gift.
We also offer telecourses and other products in our Media Store along with a Premium Paid Membership Area. In addition to all our Free Membership Media, for a small monthly fee, our Premium Membership Media contains some of our best video and audio recordings of recent events as well as telecourses from our archives, some of which are only offered here.
Feeling like you want come and hang? Then join us for our upcoming events. Check out our Programs & Events Section and pencil something into your calendar. We'd LOVE to have you.
We also have more than 100 thought provoking dialogues with thought leaders from around the world who have come to engage and apply the main tenets of Integral Wisdom to their respective fields. We're positive you'll get something good out of these dialogues. So please, go ahead and deep dive!
For those of you interested in Eros and relationship, check out this portal. In an evolving universe, and in our evolving lives, what is the future of love and relationship? In the Conscious Eros portal you will find answers to these and many more exciting questions.