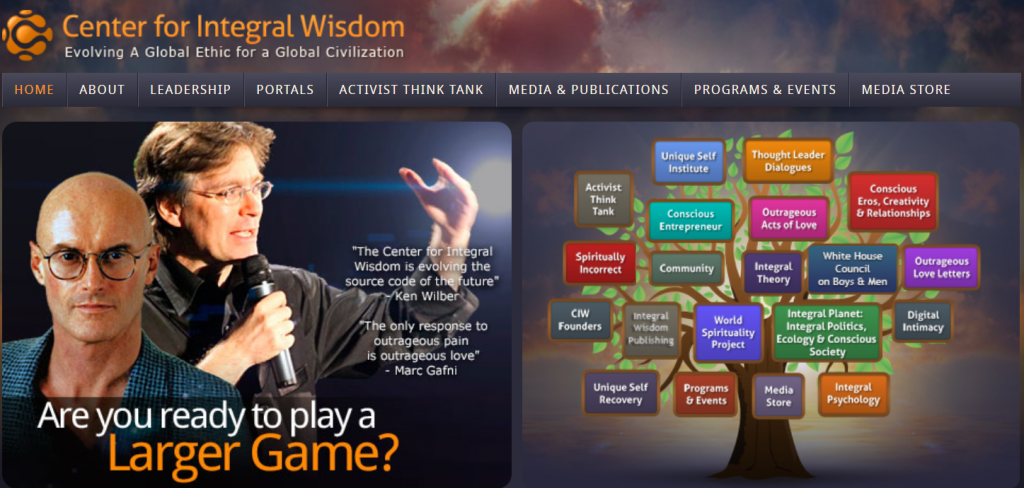 We are proud to announce the launch of "our WebPlex."
This is the last time we are posting to this site. From now on you will find us here.
As you know this has been a major project of the Center for quite sometime and we are beyond delighted to finally share our web cathedral of GREAT stuff with you.
We've put our heart and soul into the creativity needed to build out this online library of powerful new and archival content like: videos, audios, articles, courses, blog-posts… to help you play a larger game in every area of your life.
We've organized the content in a simple yet fresh new way to give you access to some of our best content. There are 23 portals ranging from Conscious Entrepreneurship and Success 3.0 through World Spirituality Based on Integral Principles to Outrageous Love, Eros, and Relationships. Each one is organized on our Navigation Tree to help you find whatever interests you the most. We think you'll enjoy exploring the various areas of our Webplex and feel excited about what we've created for you.
We invite you participate in our online community. All you have to do is click on one of the tiles and sign up in any portal. You'll gain immediate access to our free membership area which means you can access our Free Membership Media here, our Blogs, and Thought Leader Dialogues, plus receive a free gift.
We also offer telecourses and other products in our Media Store along with a Premium Paid Membership Area. In addition to all our Free Membership Media, for a small monthly fee, our Premium Membership Media contains some of our best video and audio recordings of recent events as well as telecourses from our archives, some of which are only offered here.
Feeling like you want come and hang? Then join us for our upcoming events. Check out our Programs & Events Section and pencil something into your calendar. We'd LOVE to have you.
We also have more than 100 thought provoking dialogues with thought leaders from around the world who have come to engage and apply the main tenets of Integral Wisdom to their respective fields. We're positive you'll get something good out of these dialogues. So please, go ahead and deep dive!
For those of you interested in Eros and relationship, check out this portal. In an evolving universe, and in our evolving lives, what is the future of love and relationship? In the Conscious Eros portal you will find answers to these and many more exciting questions.
In the Unique Self Institute Portal you'll find the most leading edge teachings on the ever-evolving Integral Unique Self Dharma.
Learn how to Wake Up, Grow Up, Show Up, Lighten Up, and Open Up and engage in a World Spirituality Based on Integral Principles.
The teachings of Integral Theory, including the AQAL Framework pioneered by Ken Wilber, provide a key intellectual touchstone for our paradigm. It is a fundamental Integral impulse to include and inhabit more of our fullest and deepest humanity.
"One of the core tenets of an Integral Planet is to expand our Circle of Caring and be All In for All Life. To be All In for All Life, you've got to be willing to participate in the pain, to wake up and feel it. The only response to outrageous pain is outrageous love." ~ Marc Gafni
Unleash the Heroic Power of Your Unique Evolutionary Creativity, become a Conscious Entrepreneur, and learn why "Entrepreneurs will save the world." (Marc Gafni)
"We need a new success story. We need a new love story. We need a new outrageous love story. And so what we want to try and do structurally, poetically, evocatively, and shamanically, is to articulate this new story." ~ Marc Gafni at the Success 3.0 Summit
"The Outrageous Lover commits outrageous acts of love. More than that, she commits the acts of Outrageous Love that are hers to commit, that belong uniquely to her. These are the acts that arise from within her Unique Self." ~ Marc Gafni

"The way to awaken as an Outrageous Lover is the practice of writing Outrageous Love Letters. The ultimate awakening of the Outrageous Lover is the realization that your life itself is an Outrageous Love Letter." ~ Marc Gafni
The Center for Integral Wisdom is an Activist Think-Tank dedicated to partnering with leading thinkers and change agents to formulate and articulate a global ethics for a global civilization. We are committed to evolving the source code of human existence based on Integral principles.
CIW partners with the Initiative for a White House Council on Boys and Men. We would like to introduce you to what we think is an important step forward in the evolution of human awareness and compassion. It's a group that has proposed a White House Council on Boys and Men to President Obama. Headed by Warren Farrell the group has written a proposal that outlines the many reasons why this Council is needed.
The vision of The Emergence Project is of an omni-considerate, integrally developed, effectively and spontaneously self-governing global civilization. Our mission is to facilitate the emergence of a global civilization that spontaneously self-organizes for the highest good of everyone by fundamentally recoding the underlying structural drivers of human behavior in ways that naturally elicit the development of people's full empathetic, creative, and collaborative potential, and align personal motive with collective well-being.
Conscious Evolution Meets Integral Unique Self & the Evolution of Love: When Barbara Marx Hubbard, the Grande Dame of Conscious Evolution, and Marc Gafni met, it was truly a meeting of hearts, minds, souls, and Evolutionary Unique Selves.
Agape International Spiritual Center is a progressive community enacting gorgeously many of the core Integral Unique Self values of the Center for Integral Wisdom. Agape and CIW join forces to enact new synergies of love's expression in the world.
"Never doubt that a small group of thoughtful, committed citizens can change the world; indeed it's the only thing that ever has." ~ Margaret Mead
Meet our CIW Founders, Ken Wilber, Marc Gafni, Mariana Caplan, Sally Kempton, and Lori Galperin.
Are You Ready to Step Fully into Living Your Life's Purpose? Would you like to find out how? The next stage of human awakening is within our grasp if we make ourselves ready to be all we can be. But such evolution only happens when we invest in our growth and open ourselves to continual learning. Join our Community of outrageous lovers.
In this portal, we take you deep into new possibilities of Digital Intimacy as part of the great new evolutionary emergence.
The goal of an Integral Psychology is to honor and embrace every legitimate aspect of human consciousness by embracing what is true in each of them. This portal on the Center for Integral Wisdom multi-plex presents an integrative view of consciousness, psychology, and therapy.
Integral Wisdom Publishing is a collection of imprints that are in the process of being founded in collaboration with different publishing houses. Read more about our book projects and available publications.
Welcome to the world of Spiritually Incorrect where there are no words that cannot be spoken. Too often in relationship, in families, in communities, in nations, there are words that can't be spoken, the hidden truth that no one will claim or recognize. They are words that are not part of the party line which holds the power. Spiritually Incorrect is about speaking truth to power with laughter, delight, integrity, and outrageous love.
In anyone's life, there are experiences that aid the unfolding of one's unique self and likewise, experiences that shift the trajectory in ways that constrain its emergence. Unique Self Recovery provides a way back. Finding the way back often rests upon discovering where, when, how and why one went off track. It requires looking anew, with compassion, at the previously painful, and at the time, perhaps unassimilable, that created a departure from the course of one's truest, fullest self-unfolding. It involves looking at events that closed the heart and erected obstacles to intimacy: with self, others and the larger creative context. It is about re-opening.
Enjoy! And come back to our WebPlex often.