Thank you for visiting IEvolve.org, a spot which has been the home of the Center for Integral Wisdom for the past several years. As part of our organization's web presence reorganization, we have moved the contents of this site and will no longer be posting here.
You can find us, better than ever, on the Center for Integral Wisdom's main site at CenterforIntegralWisdom.org. You can find new exciting material on the homepage as well as the portals. Thanks once again for sticking with us … we look forward to seeing you on the new site!
CIW Statement on Negative Internet Campaign
In response to the current attacks on Dr. Marc Gafni, The Center for Integral Wisdom has released an official public statement. Read the full statement and comments here.
Center for Integral Wisdom Public Statement

Dr. Marc Gafni is under attack from certain quarters of the religious and spirituality worlds. Based on our careful review of extensive documentary evidence, numerous professional evaluations, and our collective experiences with Dr. Gafni, we fully trust that the claims of sexual harassment and abuse are false, and that other claims against him are maliciously exaggerated.

The Center for Integral Wisdom takes the strongest possible stance against all forms of sexual harassment and abuse. Before any of us became formally affiliated with the Center, we, collectively, carefully reviewed these allegations. We concluded, and reaffirm now, that the claims against Dr. Gafni are either untrue or significantly distorted. Furthermore, all of us have extensive professional and personal experiences of the most positive nature with Dr. Gafni, regularly observing his goodness, integrity and kindness. … [continued]
Most Recent Blog-Posts Before the Move
September 29, 2015 By Kerstin Zohar Tuschik Leave a Comment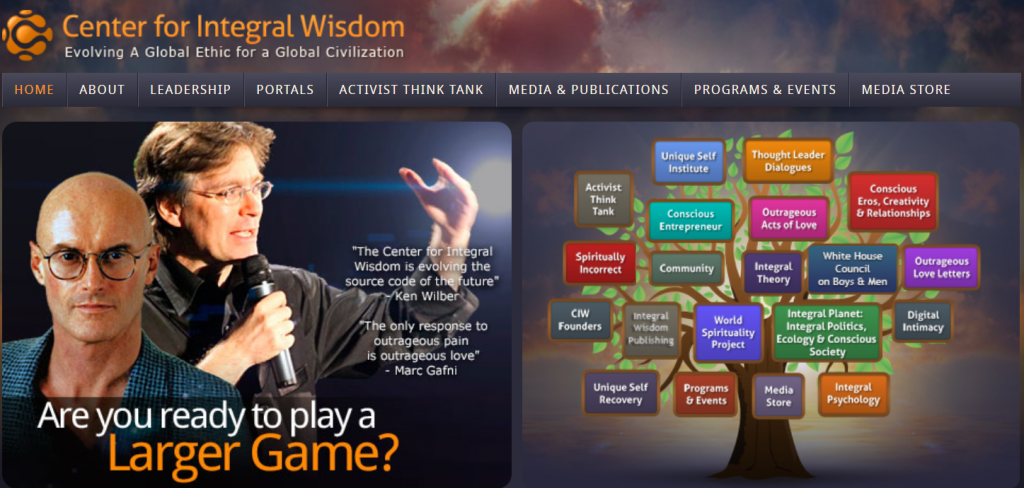 We are proud to announce the launch of "our WebPlex."
This is the last time we are posting to this site. From now on you will find us here.
As you know this has been a major project of the Center for quite sometime and we are beyond delighted to finally share our web cathedral of GREAT stuff with you.
We've put our heart and soul into the creativity needed to build out this online library of powerful new and archival content like: videos, audios, articles, courses, blog-posts… to help you play a larger game in every area of your life.
We've organized the content in a simple yet fresh new way to give you access to some of our best content. There are 23 portals ranging from Conscious Entrepreneurship and Success 3.0 through World Spirituality Based on Integral Principles to Outrageous Love, Eros, and Relationships. Each one is organized on our Navigation Tree to help you find whatever interests you the most. We think you'll enjoy exploring the various areas of our Webplex and feel excited about what we've created for you.
We invite you participate in our online community. All you have to do is click on one of the tiles and sign up in any portal. You'll gain immediate access to our free membership area which means you can access our Free Membership Media here, our Blogs, and Thought Leader Dialogues, plus receive a free gift.
We also offer telecourses and other products in our Media Store along with a Premium Paid Membership Area. In addition to all our Free Membership Media, for a small monthly fee, our Premium Membership Media contains some of our best video and audio recordings of recent events as well as telecourses from our archives, some of which are only offered here.
Feeling like you want come and hang? Then join us for our upcoming events. Check out our Programs & Events Section and pencil something into your calendar. We'd LOVE to have you.
We also have more than 100 thought provoking dialogues with thought leaders from around the world who have come to engage and apply the main tenets of Integral Wisdom to their respective fields. We're positive you'll get something good out of these dialogues. So please, go ahead and deep dive!
For those of you interested in Eros and relationship, check out this portal. In an evolving universe, and in our evolving lives, what is the future of love and relationship? In the Conscious Eros portal you will find answers to these and many more exciting questions.
September 22, 2015 By The Editors Leave a Comment
Ken Wilber, Integral Theory, and The End of The World as We Know It
by Dr. Zachary Stein
These are some reflections on the work of Ken Wilber. I've been studying his writings for almost half my life. We've met a couple times (that is Ken, Rollie, and me pictured), talked at some length on the phone, and exchanged countless e-mails. Ken's got vocal critics and Kool-aid drinking followers. I'm neither of those. I'm more of what is sometimes called an "integral kid," meaning I've been reading Ken since before I could drink legally. There is a unique kind of indebtedness to those teachers who brought you out of adolescence. But it also means I've grown up with, in, and out of this way of thinking. So I have a special kind of distancing and even reactivity and withdrawal from it, again, like one also has with one's best teachers. All things considered, I think you gotta love and be fascinated by all his books…
Anyway, this is mostly just me yawning at all the simplistic and pedantic Wilber haters….
Theorizing at the edge of history
If we are going to take a step in the transition from civilization to planetization, we will need a map. Each of us carries within, an image of space and time, and this cognitive map tells us who we are, where we come from, and where we are going…. [This map is] an imaging of personal values and cultural forms…. A culture provides an individual with a mapping of time and space, but as the culture goes through a period of change and stressful transformation, the [map] becomes distorted. In periods of intense cultural distortion, the [map] becomes so changed as to be almost obliterated. Then the individual becomes lost, profoundly lost in the ontological sense of not knowing who or what he is, where he comes from, and where he is going. For some this can be a moment of terror, for others, a time of release. In a moment of silence in which the old forms fall away, there comes a new receptivity, a new centering inward, and in an instant there flashes onto the screen of consciousness a new re-visioning of the [map]. There in the receptive silences of meditation the new possibilities of time and space announce themselves, possibilities that lie beyond the descriptions of the old institutions of the old culture. This is the prophetic moment, the annunciation of a new myth, and the beginning of a new culture.

—Thompson (1977 p.14)
Philosophers work in socio-cultural contexts, under historically specific conditions, with access to certain communication technologies, libraries, and media. Ken Wilber has been publishing books since 1971, producing a corpus that spans well over 10,000-thousand pages. He has worked with the changing times, from pen and paper to word processor, to the personal computer, and eventually to Internet facilitated multi-media educational initiatives. Moreover, Wilber has worked in response to a dynamically transforming American culture during a period of tremendous global change.
Popular philosophical movements are especially symptomatic of their times. In retrospect historical moments are often best understood in terms of the ideas that thrived during them. Athenian Democracy and the Sophists and Socrates, Medieval Europe and the Church, The American and French Revolutions and the Enlightenment, the Industrial Revolution and Darwinism and Romanticism—no trick of critical historiography could disentangle these groupings of ideas and events, these civilizational eras. What ideas will be associated with the past 60 years, the era since the start of the so-called American Century? What have been the popular philosophies in the post-industrial social systems that emerged after World War II? This question is complicated by the dynamics of the era, which witnessed explosive advances in informational technologies that enabled an unprecedented diffusion of ideas before a growing global public. It is too soon to tell, but the culture of late capitalism—post-modern culture—may very well be defined in terms of its having lacked dominant comprehensive doctrines (Habermas, 1990; Jameson, 1992). This has affected all aspects of life, from the media-saturated textures of our action-orienting self-understandings to the economic policies that structure national geographies.
September 14, 2015 By The Editors Leave a Comment
By Elliott Ingersoll, Ph.D.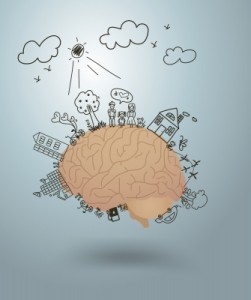 The word "psychology" was coined in the 16th century from the modern Latin psychologia which in turn is taken from the Greek psykhe meaning "breath, spirit, soul." If these words signified similar things to the 16th century Greeks as they do to us you'd never know it. To sign up as a psychology major in any of the world's mainstream universities in the early 21st century "psychology" is still described as "the science of mind and behavior." As all historians of psychology know most of the emphasis in the last 200 years has been on the "behavior" piece. We are still "fuzzy" on the "mind" piece. If by "mind" we mean our mental experiences, sentience, and the field of awareness that these arise in we still come up short. There is growing evidence that "mind" is also a social phenomenon being sculpted dialectically by our interactions with other creatures and the environment. Also there is mounting evidence that at least the experiences of "mind" may be more affected by things like our gut bacteria than ever thought possible even 20 years ago. This may be thought of as another "interactional" dynamic. We carry more DNA for the bacteria that symbiotically work with us than the DNA of our own cells. All these interactions affecting our mental experience and what we call our "mind" seem to suggest more of a field effect than a solitary reality.
In physics, the field effect refers to modulating the electrical conductivity of a material by the application of an external electric field. I try to be very cautious about using similes from physics to discuss psychology. Here I want to relax my caution to use the simile two ways implying the "material" in the description of physics field effects is akin to our solitary experience of "mind" and the "field" in physics akin to the cacophony of situations and stimuli we are immersed in from cradle to grave. What I am pondering is whether what we colloquially refer to as "our mind" is possibly only one aspect of a vast and potentially infinite array of interactions, influences, and overlapping fields.
Ok so back to the two ways I am playing with the simile of field effect: First we know that much of our being relies on electrical activity including our brain. And we know that human brains electrically (and otherwise) entrain with other brains in the presence of certain stimuli. Some stimuli (experiences) are more entraining than others. Drumming and all music have the potential for strong entrainment as do physical activities done in groups like dance, sports, sex (imagine a dyad if the group thing bugs you here), and various "crowd phenomena like so-called "mob psychology" (and "no" this is not psychoanalysis of Vito Corleone but rather how people will do things in crowds they won't do alone and where the increase of energy is almost wave-like in a so-called "mob happening.").
Second I feel playing with the simile of field effect to describe "mind" is valid because we are all immersed in a series of fields whether you think of them concentrically or as an overlapping cacophony of potential influences. Part of training "mind" is discerning, focusing, and choosing from among those influences. Some are such that we can make them objects of awareness then "choose" to focus on them (for example choosing those people we will allow emotionally closest). Others are things we are totally immersed in and necessary for survival (like gut bacteria) or characterized by chaos patterns that make them more variable (crowds, things that happen to us, elements in the environments we physically inhabit).
In Personality Psychology or Psychotherapy Theory it is common to hear people describe themselves as a "community of selves." Mind seems a similar phenomenon in that it is a seeming solitary experience that is one aspect of a vast and potentially infinite field of influences, interactions, symbiosis and accidents. In future blog entries I will discuss levels of the field of psychology in the context of Unique Self Psychology. We will also explore why "soul" keeps popping up in etymological explorations of the word "psychology."
Integral Psychologist and Associate Academic Director for CIW Elliott Ingersoll, Ph.D. is a licensed psychologist and clinical counselor in Ohio. He is professor of counseling/counseling psychology and "Distinguished Faculty Member" at Cleveland State University. His research interests span a broad spectrum including psychopathology, mental health diagnosis, psychopharmacology, and spirituality in counseling and psychotherapy. He has authored or co-authored six books and dozens of peer-reviewed papers and book chapters on mental health related topics.

Elliott has been inspired and influenced by the Free Thought movement of the late 19th century and particularly by Robert Green Ingersoll, a leading freethinker of that time. He believes the most important skill for a human being is critical thinking seasoned with compassion. Elliott also is a singer/songwriter and creator of "FreeThought Folk Music" which he performs throughout Northeast Ohio. His CD "American Infidel" was released in 2013.

He has worked with Ken Wilber and the Integral Psychotherapy Team at Integral Institute since 2004 developing the Integral Psychotherapy approach. Integral Psychotherapy draws upon all validated psychotherapeutic approaches to help clients deal with psychological symptoms or live more fulfilling lives by removing barriers that come from living unconsciously. As an Integral Coach, he helps clients take action through motivation, methods of inquiry, and assisting clients in using the Integral Model to achieve their goals and improve their lives.
We wish all our readers a good and sweet year: L'Shanah Tovah U-Metukah. Read more about the cosmocentric rereading of the ritual of Rosh Hashanah, the Jewish New Year holiday, by Dr. Marc Gafni, here>>>
In Evolutionary Love,
The Center for Integral Wisdom Team