Most Recent Blog-Posts
August 3, 2015 By Kerstin Zohar Tuschik Leave a Comment
The dharma of Outrageous Love, Eros, and Unique Self has never been more alive than during those last couple of days. Evolutionary Relationships and Unique Gender are connecting the dots between the Awakening as a Unique Self and the Unique Self symphony.
"We are the erotic mystics reweaving and evolving the source code of reality." – Marc Gafni at the Summer Festival of Love 2015
Marc Gafni first published a version of the lines and circles teaching in his book, The Mystery of Love (Atria, 2003).
The teaching has evolved dramatically over the last 13 years. He gave a more advanced version of it in Venwoude several years ago to a small inner group at the community. The version we heard at the Festival is the deepest and most advanced version we have of this dharma.
"All forms of reality that don't have in them
the marriage of masculine and Feminine
are no reality at all.
There is no higher form.
They have no potency and no blessing in them."
"Blessing only flows when the Masculine and the Feminine dance in their Higher One."
– The Zohar
Testimonial by participant David Steel:
What an incredible blessing this week has been. I have had the opportunity to study and learn with one of the great teachers of our time. I know that in many ways I will never be the same. I have truly begun to understand and appreciate my "Unique Self."
The following is a condensed summary of the dharma of the second part of the festival with many quotes or paraphrased statements from the teachings.
[To read a summary of the first three days, click here: "Lines & Circles: A new Dharma on Unique Gender at the Venwoude Summer Festival of Love".]
In the evening of day 5, Ken Wilber called into the Conference adding his wisdom on Gender from an AQAL perspective, engaging "in the kabbalistic process of Tzimtzum," as Marc called it, and "contracting brilliance and light into a single point of ten minutes which communicated something profound and potent and game changing."
At the end of his talk Ken concluded (paraphrased from his talk):
We as humanity are at such a high level of consciousness that we actually have a choice which characteristics we want to embody. Each Unique Self is a unique embodiment of lines and circles. For the first time in history we can select our own gender profile.
The participants responded with love, appreciation, and a standing ovation for him.
On day 5 and 6, a profound healing of the Masculine (or what we preferred to call the line quality) in its beauty happened, it radiated from every face of both men and women as well as from the spaces in between. We were and still are in awe of what is possible in just a few days together in devotion to the dharma, when the Unique Self symphony comes alive.
On day 7, we finally entered the circle. This is what I wrote immediately after the teaching to capture some of the essence of what happened: [Read More...]
July 27, 2015 By Kerstin Zohar Tuschik 5 Comments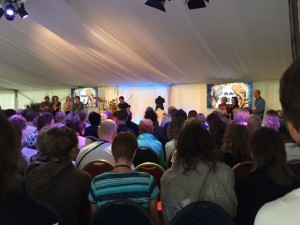 We are in the midst of day 3 of 8 of the Second Annual European Integral Wisdom Conference on Love, Eros, and Enlightenment also known as the Fourth Summer Festival of Love. The whole event is outrageously rich and full on so many levels. 240 participants are here – and the "field" is shimmering with love, practice, and delight. The evolution of love is happening right here, right now. Marc Gafni is bringing down new and gorgeously alive dharma every day and the community gathered here is wonderfully receptive, playful, and committed.
The first day started with a heavy summer storm that mirrored perfectly the bright explosion of the dharma brought into the room so passionately by Dr. Marc. The Venwoude community, as well as an awesome team of contributors and volunteers, in collaboration with The Center for Integral Wisdom, welcomed the participants.
Every day Marc gives beautiful and powerful teachings on the evolutionary emergence of the Unique Self symphony, Evolutionary Relationships, and Unique Gender. There is also a whole spectrum of workshops and practice groups as well as awesome conversations and fantastic food. The participants are loving it and the energy is building. This whole event is not only truly Integral but also outrageously rich and full on so many levels.
Some gems from the Dharma quoted and paraphrased from Marc:
We need to know–more than anything else in the world–that the universe is not a fact but a story. The universe is a story–not an ordinary story but a love story–not an ordinary love story, but an outrageous love story.
Evolution is Outrageous Love in Action. The best information we have today is that the universe is a love story, an outrageous love story. We are the central actors in it and the inherent plotline is love.
Love is not hard to find. It is impossible to avoid. The universe feels. And the universe feels love.
To awaken means to realize that the universe is whispering into my ear in every moment: I love you. I need you. I choose you.
In the newness of the moment is the healing of the moment. The power of NOW is that all of the past and all of the future is right here.
You can always ask yourself: Was newness born in this moment? Or is something dying? Maybe nobody else will know the difference but you will and reality will.
A new Dharma on Unique Gender
There are five great historical stages in western culture of how people looked at gender:
For most of history, people thought there is man and woman, male and female.
Culture used differences as a tool for oppression.
Because of that, there was a great move in culture to level all differences.
Neuroscience discovered through the use of FMRI that there are differences between the sexes that are real hardwiring.
At the same time, neuroscience also discovered neuroplasticity: The culture we live and participate in can shift and transform the brain. Marc called that cultural neuroplasticity.
In every moment that has blessing, in every place that has blessing, there is an inner marriage of masculine and feminine, or line and circle qualities, occurring.
As a Unique Self, I am a Unique Gender, a unique integration of line and circle qualities, which is the Divine inner marriage–Hieros Gamos.
The divine marriage is happening everywhere. In an evolutionary relationship, a Unique We is born that has unique gifts to give together. You cannot get to this outer marriage without first having an inner marriage. That's the democratization of Hieros Gamos, the Divine inner marriage.
Human beings are Eros waking up but not yet awake. For most of history there was no conscious choice. For the first time in history there is actually a choice on how to live your unique gender. Humanity is waking up. Eros is waking up.
What if the only discerning principle for human beings was: Are you an outrageous lover? That's what makes you erotic.
July 18, 2015 By Kerstin Zohar Tuschik Leave a Comment
Dr. Marc Gafni at The Ultimate Love Summit (online)
When you were a kid, did you ever think you would have to choose between career and financial success, and having loving, and truly fulfilling relationships with the time to truly enjoy both?
Why do so few people experience total abundance and harmony in both? What makes it so challenging and can anyone really have it all?
The truth? The answer is Yes, you can!
Welcome to the next evolution of LOVE for life, business and impact!
Join Dr. Marc Gafni as one of the experts in this one time special free event, The ULTIMATE LOVE Summit, created by our friend Dallas Michael Cyr!
Dr, Marc has been invited, along with more than 20 other Era defining experts to share with you the Secrets for Building a Wildly Successful Heart-Based Business and Attracting Incredible Relationships Filled With Real Love and Connection!
At the Center for Integral Wisdom we are committed to the Evolution of Love in all the different areas of life–from Conscious Entrepreneurship and a new vision of Success, to personal relationships and fulfillment through a life filled with Outrageous Love and Eros.
That's why we are honored to be part of this Summit that is going to positively impact a lot of lives.
Dallas has brought together an incredible line-up of experts and absolute rockstars in business and relationships!
Register free to join us and you'll
Stop struggling for clients and instead attract "Raving Fans" that truly value you and your work and who keep coming back time and again for your products or service.
End difficult and frustrating relationships and build real, meaningful and deep connection in your life.
Discover the keys to call in your soulmate or your twin flame relationship.
Learn how to up-level your current impact, and share more of your gifts with the world!
Get what it takes to build a team that works like a well-oiled machine, communicates effectively and loves the work they're doing.
…..Plus you'll get access to exclusive bonuses and more.
Click here for all the details and to register>>>
Whether you're ready for more love and joy in your life, more career fulfillment and financial success or both, join us!
The game has changed and the new rules are available.
Archives of the CIW Spirit's Next Move Blog
Featured Content
Dr. Marc Gafni and Ken Wilber meet by phone regularly to discuss new thought on a wide range of topics, including the future unfolding of the Center and its initiatives. At the core of their work is key book that is slated for release in the Summer of 2015 on World Spirituality Based On Integral Wisdom Principles. This will be the source code book which their other books will emerge from and reference.
On this note, we'd like to share a dialogue that will appear in a different form in the book: a beautiful conversation about how the evolved and awake human being engages evil and suffering.
Listen to this vibrant dialogue and read the transcript below:
Listen to John Mackey outlining his compelling new vision for success and Conscious Capitalism and read the transcript below:
Transcript:

John: Well, thanks Marc. It's good to tune in with you guys today. I'm going to talk a little bit about where I think the integral framework, one of the things that it's largely missing, is if you think about each of the Spiral Dynamics Model or the integral integration of that, each of the frameworks has got sort of a vision of success.

It has a vision of the ideal human being. It has a vision of the ideal society. If you think about, say, the blue meme framework, say, in Europe, if you have something like it particularly in maybe England, you have something like — or in America, you have the Bible as a guide. You also had Pilgrim's Progress as a text where the ideal human being would be pious and would be striving to ensure their salvation through good works, so you had this vision of what success looks like and that framework would be obedience to God's word and following the divine path that's been laid out for you that will lead to your salvation.

As we move into more modernistic consciousness, modernistic framework, you have one of the early … texts, so that would be Benjamin Franklin's autobiography, as well as his way to wealth. And much of the success literature of the 19th and 20th Century is very much in sort of a modernistic framework or consciousness. It could force sort of a vision of the ideal human being, which in this case is very individualistic and oftentimes striving for wealth, for prosperity, through hard work and through savings and frugality, and through having a strong ethical code of fair trade and honesty.

Continued below the video…
Featured Blog-Posts
November 15, 2014 By Kerstin Zohar Tuschik 2 Comments
The Success 3.0 Summit, this amazing gathering from October 30th to November 2nd, 2014 in Boulder, Colorado of the world's leading thinkers, entrepreneurs, and change-agents that was co-initiated by the Center for Integral Wisdom was a wild success.
Among the speakers were thought leaders like Tony Hsieh (CEO, Zappos Inc), Arianna Huffington (Editor in Chief, Huffington Post), Alanis Morissette (Singer/Songwriter & Activist), Blake Mycoskie (Founder, TOMS Shoes), Barbara Marx Hubbard (Author, Social Innovator, Evolutionary Thought Leader), Michael Franti (Lead Vocalist of Spearhead & Activist), Casey Sheahan (former CEO, Patagonia), Lynne Twist (Global Activist & Author), Adam Bellow (Vice President, Harper Collins), Ibrahim Husseni, Business leader, Ben Jealous (former President & CEO of the NAACP), DJ Spooky (Composer, Musician & National Geographic Emerging Explorer), Tom Chi (Innovator & Founder, Google Glass), Jack Canfield (Author, Chicken Soup for the Soul), and many others.
The goal of the summit was to articulate a new, transformative vision of conscious living, innovation, and social impact and to create a new definition of Success that can lead humanity into the future. And that was exactly what happened. The partnership between Marc Gafni, the President of Center for Integral Wisdom, John Mackey, the board chair, Kate Maloney the co-board chair and Ken Wilber the Co-Founder of the Center was so clear and beautiful that it naturally manifested this powerful event which so many people in the room felt was perhaps the most powerful event of this kind that had ever attended in their lives. I want to particularly note the love and respect between Marc and Kate that was subtle and quiet in the space but clearly lit up the room.
In the Media
About 600 people attended the event live and thousands of people watched at least part of it through the live stream. The event was wildly shared through social media with many thousand tweets on twitter alone. Gaiam TV will screen the videos of it by the end of the month. And last but not least, many of the speakers and attendees were recorded alongside the event as part of a movie that will emerge from this. So, stay tuned.
Second Simplicity of Dharma
It was gorgeous to see the many ways the Dharma of Unique Self, Eros, Outrageous Love, and World Spirituality, that Dr. Marc Gafni has been articulating and outrageously transmitting for the last several years, has played a role in this amazing happening.
Most of the speakers started to use the 6-word Mantra Wake Up, Grow Up, Show Up. Dr. Marc Gafni, Visionary Scholar, Wisdom Teacher, and Co-Founder and President of CIW, brilliantly transmitted these thought forms in his opening speech. He suggested that every generation needs to participate in the evolution of consciousness. And:
"It is our turn. We are here to articulate an ethics of success that is rooted in Outrageous Love. Outrageous Love demands a new vision of success."
He also introduced one of his key terms, the word Second Simplicity. Second Simplicity is what he calls the Simplicity that comes after Complexity. After having really grasped the complex concepts, we can get to a stage where we can express them in a compellingly simple way–thereby reaching people from all stages of consciousness. [Read More...]
Featured White Papers
Read this White Paper by Board Members Venodhar Rao Julapalli, MD and Vinay Rao Julapalli, MD, F.A.C.C.
There is a dire need for the integration of the art, science, and morality of medicine. This paper explores the deep implications of the Unique Self in integrating medicine. Co-authors and physicians Venu and Vinay Julapalli call on their extensive understanding of the promises and pitfalls of modern health care to reconceive the practice of medicine. The paper provides the framework to evolve medicine through the emergent Unique Self insight. At stake is no less than the future of how we care for ourselves and each other.
Unique Self and the Future of Medicine
Abstract:
Medicine is at a critical crossroads in its evolution from antiquity to our modern age. This article aims to reconceive the future of medicine. Key to this conception is an understanding of the evolution of individual development. To this end, the discussion will first outline the stations of the selves, on the path to what has been termed the Unique Self by spiritual thinker Marc Gafni. Next, the discussion will distinguish between two poles of development and outlook, in order to understand how the insight of Unique Self integrates these dualities. It will then view the Unique Self from three perspectives, or four quadrants, of reality and also illustrate how Unique Self appreciates the balance between part and whole. The discussion will subsequently correlate the stations of the selves with the history of medicine and further examine dualities in medicine that parallel those of the self . It will then elucidate how an understanding of Unique Self fundamentally shifts our envisioning of the practice of medicine. This shift renews the unique calling that is the art and science of healing.
Introduction
Universal to the human experience is care of our health. Medicine is defined as "the science and art dealing with the maintenance of health and the prevention, alleviation, or cure ofdisease." The topic of medicine is therefore relevant to all of humanity.
In the United States, the practice of medicine has reached a critical crossroads. National spending on health care has been estimated to total $2.8 trillion in 2012, which is 18% of the gross domestic product (GDP). It is projected to increase to about 25% of GDP and 40% of total federal spending by 2037. Few dispute that this trajectory is unsustainable.
The dispute begins in how to alter this trajectory. The debate has raged on from multiple perspectives. Some have focused on the structures of payment for health care, while others have investigated the sources of health care pricing. Some have proposed the standardization of health care delivery with an emphasis on maximizing value through evidence-based medicine, while others have highlighted the role of the social determinants of health in influencing the rising costs of medical care. The Affordable Care Act, signed into law in March 2010, expanded health insurance coverage for Americans and introduced programs designed to slow spending on health care. However, there is no clear consensus on its ultimate effect in bending the health care cost curve down.
Most of the recent discussions on the practice of medicine have preferentially approached health care as an object. Evidence-based guidelines, quality measures, value-based metrics, and pay-for-performance programs presuppose an objective perspective on medicine. The increasingly acknowledged urgency of controlling spiraling health care costs has certainly advantaged this perspective, along with desires to improve patient safety and even out regional variations in health care delivery.
Somewhat drowned out in the recent movements in medicine is the voice of medical humanism. This voice presents medicine from a subjective perspective, as it highlights the individual values, goals, and preferences of a patient with respect to clinical decision making. From this perspective, paramount are factors such as honoring the dignity of patients and their families, acknowledging their cultural and ethical sensitivities, sharing clinical decision making between the patient and the physician, and upholding the autonomy of the patient in making medical decisions. Physicians voicing humanism in medicine feel that the subjective aspect is crucial in maintaining medical professionalism, demonstrating good clinical judgment, and caring for patients near the end of life. They question the effectiveness of health care based merely on utilitarian medical decision analyses, rather than nuanced conversations between the patient and physician on the patient's perception of his/her illness and its treatment.
The two perspectives, medicine as an objective science and medicine as a subjective art, are often diametrically opposed to each other. Health care objectivists regret that "Our current health care system is essentially a cottage industry of noninteg rated, dedicated artisans who eschew standardization." They criticize the current system as one that "overvalues local autonomy and undervalues disciplined science." In subjective medicine, "'Good doctors' are celebrated for their unwavering dedication to doing whatever it takes to care for their individual patients." In their view, this leads to excessive tests and procedures, a fragmentation of care, limited oversight of such care, and ultimately wasteful and unreliable medicine.
Health care subjectivists, on the other hand, lament that "Reducing medicine to economics makes a mockery of the bond between the healer and the sick." They eschew the replacement of terms such as "doctors" and "nurses" with "providers," and "patients" with "customers" or "consumers." They feel these terms are "reductionist; they ignore the essential psychological, spiritual, and humanistic dimens ions of the relationship – the aspects that traditionally made medicine a 'calling,' in which altruism overshadowed personal gain." In objective medicine, the "discourse shifts the focus from the good of the individual to the exigencies of the system and its costs." In their view, this results in diminished independent and creative decision making, dehumanization of the patient and professional, destruction of the trust so crucial to the patient-doctor relationship, and ultimately a demeaning of medicine.
How best can we reconcile these two positions in a way that includes and transcends them both? Is there another perspective that honors medicine both as a science and as an art, without congealing the two sides into a muddled compromise that satisfies neither?
Acknowledging the instability of the current system, can we evolve medicine to a practice of greater value, efficiency, meaning, and purpose?
In the rest of this discussion, we aim to reconceive the future of medicine. Key to this conception is an understanding of the evolution of individual development. To this end, we will first outline the stations of the selves, on the path to what has been termed the Unique Self by spiritual thinker Marc Gafni. Next, we will distinguish between two poles of development and outlook, in order to understand how the insight of Unique Self integrates these dualities. We will then discuss the Unique Self from three perspectives, or four quadrants, of reality and also see how Unique Self appreciates the balance between part and whole. We will subsequently correlate the stations of the selves with the history of medicine and further examine dualities in medicine that parallel those of the self. We will finally outline how an understanding of Unique Self fundamentally shifts our envisioning of the practice of medicine. Our discussion will highlight the physician as the exemplar of the medical professional but can apply to any professional involved in caring for patients. All are included in the future of medicine.
Download the pdf of the complete article here
Pre-Version
Abstract & Introduction
In this article, I want to elaborate on the concept of "Dharma, Lineage, Transmission, and the Student-Teacher Relationship" in the specific way these words are used in my World Spirituality community and specifically by the initiating teacher of the community, Dr. Marc Gafni. Marc has infused the word "Dharma" with a series of meanings which have become self-evident in our community. Because Marc has not yet written about his expansion upon the meaning of "Dharma" for the broader public, I have felt that it is necessary to do so.
The Unique Self teachings that Marc has brought into the conversation are now changing the way that enlightenment is experienced and taught around the world. In my perception, the power, love and clarity of his teaching and transmission of Unique Self enlightenment has been so profound that now, in many enlightenment circles around the world, Unique Self thinking under a host of names is virtually a given. And that although ten years ago, Unique Self Dharma was still unheard of in the enlightenment world. While this (often unconscious) adoption of the core teaching of Gafni's Unique Self Dharma is an excellent achievement and a necessary and gorgeous step for a cogent meme to become mainstream, I find it—for the many reasons that I will discuss in this article—very important to give honor to Marc Gafni's original inseminating work and transmission as well as to the lineage(s) that he is part of and whose wisdom he is embodying and evolving.
I, myself, have come a long way from studying cognitive concepts and maps, methods of self-transformation and healing, to studying and embodying a comprehensive dharma. The insights and discoveries I want to share with you in this article have also occurred along with the transition from being a devoted and passionate student of the Dharma to becoming more and more a teacher and lineage-holder of the Dharma myself. Specifically, I have been teaching, sharing and representing Unique Self Dharma in the German-speaking world, which in turn has deepened my own studies. So, let me share the frameworks that I have encountered and that have worked or not worked for me in relation to the teacher-student-relationship and in relation to the "Dharma." These discernments are I believe critical for what my teacher Dr. Marc Gafni calls the "post-postmodern integral reconstruction project" which is so profoundly needed in our post-postmodern world.
Download the whole article: